We are very easy to reach, whichever route you take. We only ask that you:
1) Do not attempt to come into Crofton directly from the A595, as this takes you though the Crofton Estate Arch. This access from the A595 is both width and weight restricted by law, so if you are in a motorhome of are towing a touring caravan, you will need to access the site from the A596 only.
2) That you do not turn right too early into Crofton Hall Farm. Please read the directions below carefully to avoid problems!
---
Detailed directions from the A596 to the Site
When you leave the A596 for Crofton, you will drive 1.25km (0.77 miles) before turning right into West Park.
PLEASE NOTE: Around 1.07km (0.66miles) from the A596, you will pass a farm entrance. Do not turn in here, continue for another 185m (600ft) to reach the correct junction. The turning you must not take is shown below:
The correct junction, a short distance farther, is marked with a brown tourist sign for the Cheese Farm, circled below on the left-hand-side, and a sign for our site on the wall, also circled, on the right-hand side.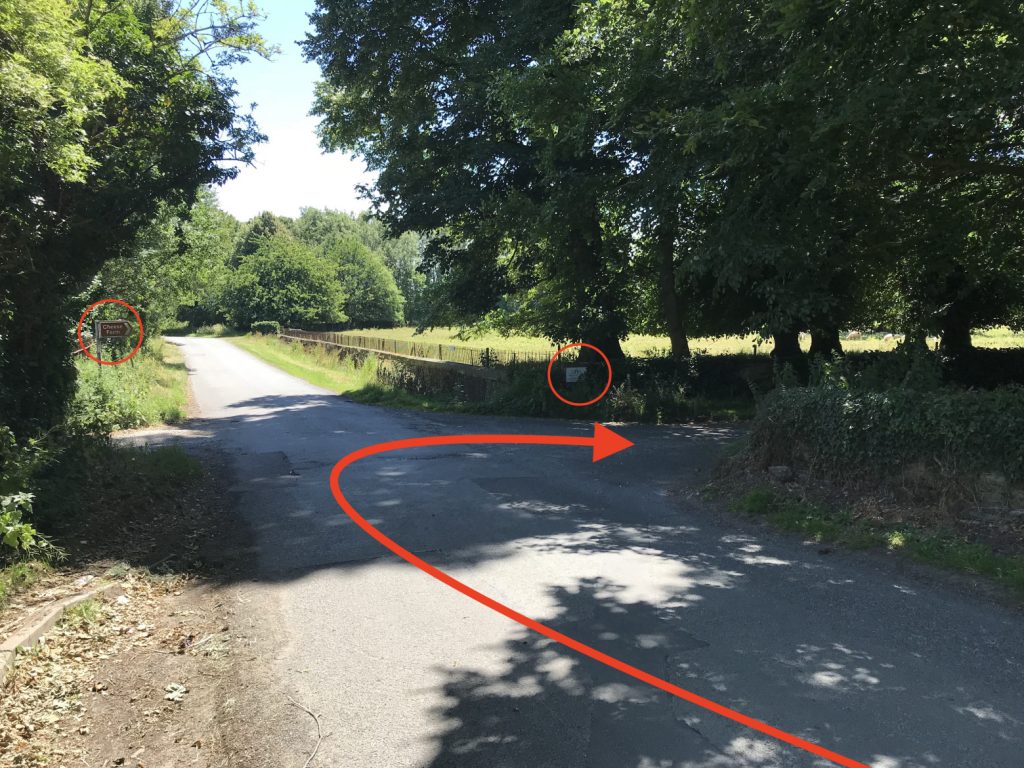 You then drive only 70 metres (235 ft), before turning left into the site, as shown below:
---
Route from the North
We recommend taking junction 44 from the A74M/M6 and following the A689W Carlisle Northern Bypass, then heading west on the A595/A596. The full route is available on Google Maps by clicking here.
---
Route from the South
The most direct route is to take junction 41 of the M6 and to follow the B5305. This route can be found here. Many of our customers happily use this route and it is a good road in all but the worst road conditions. This route can be found on Google Maps by clicking here.
However, it includes a deep descent and ascent at Sebergham that some may not wish to tackle. The alternative route is to continue to J42 and leave the M6 there. This route can be found on Google Maps by clicking here.
Please Note: All these routes have been adjusted from the normal 'fastest/shortest' preference on Google Maps to avoid bringing you into Crofton from the east, via the A595. You must approach from the west, via the A596. any queries, please just contact us for help.